The College for Creative Studies Announces New Dean of Undergraduate Studies
January 30, 2023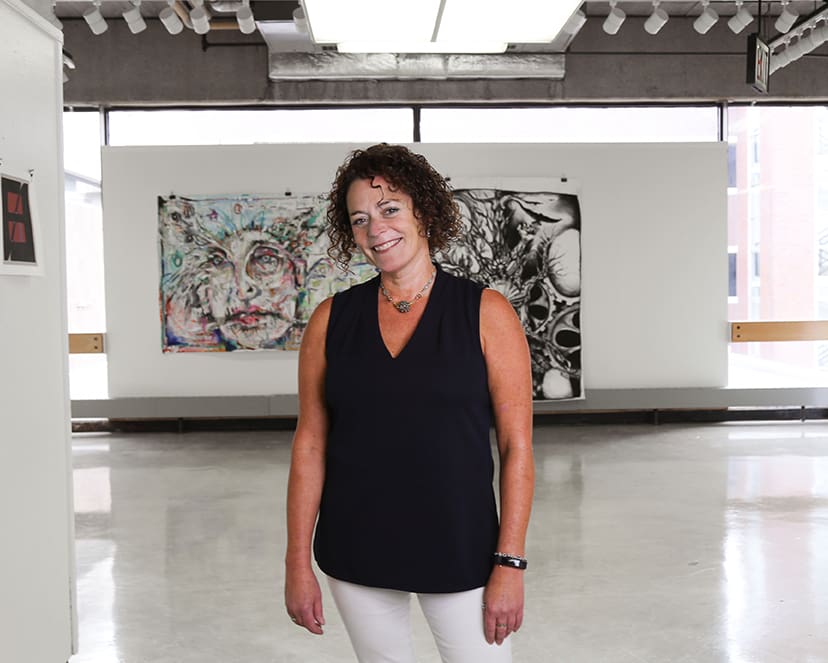 The College recognizes artist and long-time educator Dr. Amy Ruopp as the new Dean of Undergraduate Studies 
The College for Creative Studies (CCS) is pleased to announce the appointment of Dr. Amy Ruopp as the Dean of Undergraduate Studies, effective January 2, 2023. 
Ruopp came to CCS in 2019 with 25 years of education experience in a K-12 setting, originally serving as Assistant Professor and Chair of the College's Art Education program. She continues to serve in that capacity and in 2021 was named Assistant Dean of Undergraduate Studies as well. Recognizing her success and talent as an educator and the need for a Dean of Undergraduate Studies, the College appointed Ruopp as Dean of Undergraduate Studies in 2023. 
During her time as assistant dean, Ruopp oversaw the development of  the new Mentorship program—which was created for students to connect with faculty, staff, alumni, and industry professionals during their time at CCS. She's also written and launched the Master of Arts in Art Education program and supported other degree programs as needed.
"Amy's experience as an artist and educator brings a needed and unique perspective to Academic Affairs and the overall leadership of CCS," says Tim Flattery, Provost and Vice President for Academic Affairs and Chief Academic Officer. "She is an innovator and collaborator at the highest level and I am very excited for her to implement all her talents in this new role to help make CCS the best art and design educational institution."
Ruopp's interests include the interconnected identities of the artist, researcher, and teacher—each identity informing and exploring the practice of the other. Her research focus follows three discrete, yet interrelated strands explored through Feminist New Materialism Theories: (a) within art education, the artist/researcher/teacher identities and making artistic learning visible, (b) developing innovative visual research methodologies which transcend traditional siloed learning and knowing and (c) creative research as data visualization and analysis. She explores the intersections of knowing between different disciplines and literacies, what that produces, and how it is put into practice in her recently published book through Routledge — "Encounters With Theory as Conceptual Medium and Creative Practice." 
Ruopp received her Ph.D in Teaching, Learning, and Curriculum with an emphasis in Art Education as well her Ed.S, and a qualitative research certificate from the University of Missouri. She earned a  Master of Arts: Teaching and a Bachelor of Fine Arts from the Maryland Institute College of Art.
About The College for Creative Studies 
Located in the heart of Detroit, the College for Creative Studies (CCS) is a world-class institution that educates artists and designers to be leaders in the creative professions. A private, fully accredited college, CCS enrolls more than 1,400 students pursuing Bachelor of Fine Arts (BFA), Master of Arts (MA) and Master of Fine Arts (MFA) degrees.
Students in the BFA program can major in Advertising Design, Art Practice, Communication Design, Craft and Material Studies, Entertainment Arts, Fashion Design, Film, Illustration, Interdisciplinary Art + Design, Interior Design, Photography, Product Design and Transportation Design, in addition to a dual major Art Education program. Students in the graduate program can major in Art Education, Color and Materials Design, Design for Climate Action, Interdisciplinary Design Studies, Motion Design,Transportation Design and User Experience Design.